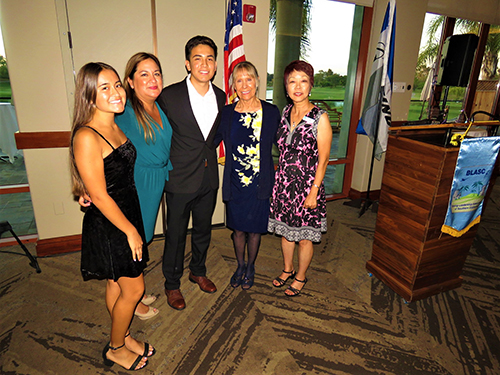 BLASC is grateful to the Mossman family for their annual donation to the BLASC Scholarship Contest. BLASC has partnered with the Mossman Family for over 20 years in investing in future leaders. In 1999, when Diana's husband Mike passed away at work, she established this award in honor of her husband. The award also served to show the love that Mike had for his son Taylor and for education. Mike led by example, obtaining his MBA degree from Claremont College. He also encouraged cooperative students with universities such as Cal State Long Beach, Cal Poly San Luis Obispo, USC, UCLA and Georgia Tech. With his education, Mike's career successes included developing the DC-10 Propulsion Integration and Advanced Design, assisting in the design of the Ultra-High Bypass Program, Commercial versions of the C-17, as well as other improvements and derivatives of the C-17 Program. Perhaps more importantly, Mike was known for his energy, enthusiasm, "never quit attitude," and the love for his family. The Mossman Award is presented every year to the first place winner with the highest overall score amongst all the finalists.
FPCU Donates $5,000 to BLASC's Annual Scholarship CONTEST
Supporting our local communities.
​FPCU is proud to support the Boeing Leadership Association of Southern California. Every year, we donate to the Annual Scholarship Contest in support of BLASC member's children and grandchildren as they approach their college years.
From the Association:
"BLASC has been very fortunate to have the support of Financial Partners Credit Union. For more than a decade, FPCU has donated $5,000 to the BLASC scholarship fund and BLASC is SO grateful for this kind and generous donation. As many of you know, BLASC offers annual scholarships to children and grandchildren of their members each year.